Posted 4/11/13 11:15 am EST by Danica Davidson in Celebs, Eco-Friendly, Green, Sweet Tweet
Mark Ruffalo knows that fracking has got to go, but instead of going into angry Hulk-Smash mode against pro-frackers, he's co-narrated a documentary on the dangers of fracking. "Marvel's The Avengers" and Mark are nominated for multiple 2013 MTV Movie Awardsthis Sunday, and while this doc isn't exactly as fun as a Marvel movie, you might learn something from it.
Mark Tweeted:
WATCH NOW: #fracking #documentary reveals how industry covers up water contamination po.st/u6uiKs @channingtatum @lovecanal2020

— Mark Ruffalo (@Mruff221) April 10, 2013
Fracking is a way to get natural gas out of the ground, but in order to get it, people have to pump toxic chemicals into the earth. Critics claim this is dangerous for, well, basically everyone and everything, because we all count on the earth to survive.
This leads us to Mark's documentary, called "Triple Divide," which shows water contamination being covered up by the fracking industry and the state. The investigation was done by Public Herald, founded by journalists Joshua Pribanic and Melissa Troutman, and hopefully having an A-list name like Mark Ruffalo attached will get more people checking it out. The movie was just released a few days ago, and you can watch the whole thing online if you give a donation of $5. There are also free trailers and clips available so you can get a feel of the film.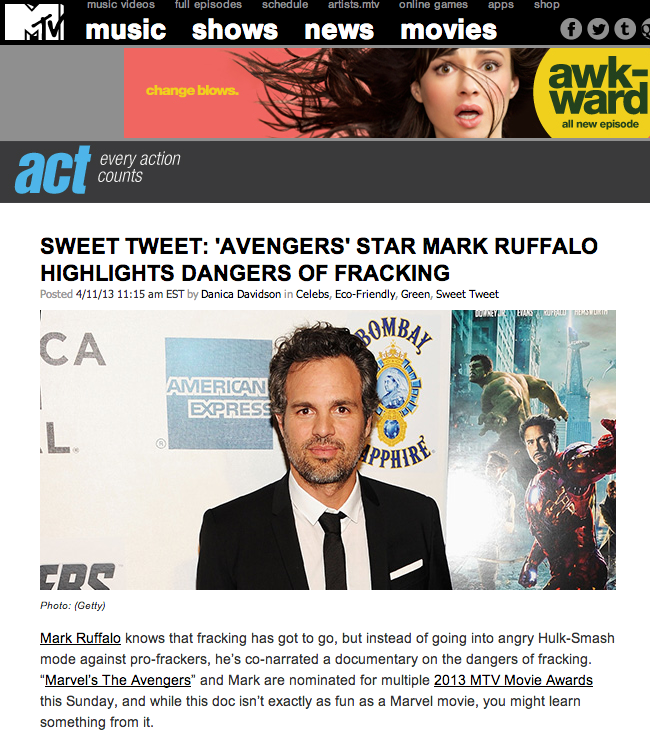 If you're not able to watch the movie, you can still educate yourself on fracking so you know what's going on and what the dangers are. As cool as it would be to see Mark turn into the Incredible Hulk in real life, it's probably better to stop fracking through education and activism, instead.