Oil and gas operations in Pennsylvania are regulated by the Department of Environmental Protection (DEP). For the complete up-to-date set of DEP files scanned by Public Herald please visit the #fileroom.
DEP RED-FLAGGED PERSONNEL
Kevin Sunday
DEP spokesman Kevin Sunday commented about the new Pennsylvania radiation study the Department is undertaking. "There's nothing out there to indicate the public or industry face any kind of risk of radiation exposure…" – Triple Divide showed multiple violations where drilling waste pits were exposed to seasonal high water tables and would allow for radioactive substances to dissolve and reach a water supply. Why would Kevin say this before any study was complete? Well, his working history shows serious conflict of interest… a quick look tells the story: http://www.linkedin.com/pub/kevin-sunday/22/376/599 — Here's a photo of Kevin's appearance in the documentary: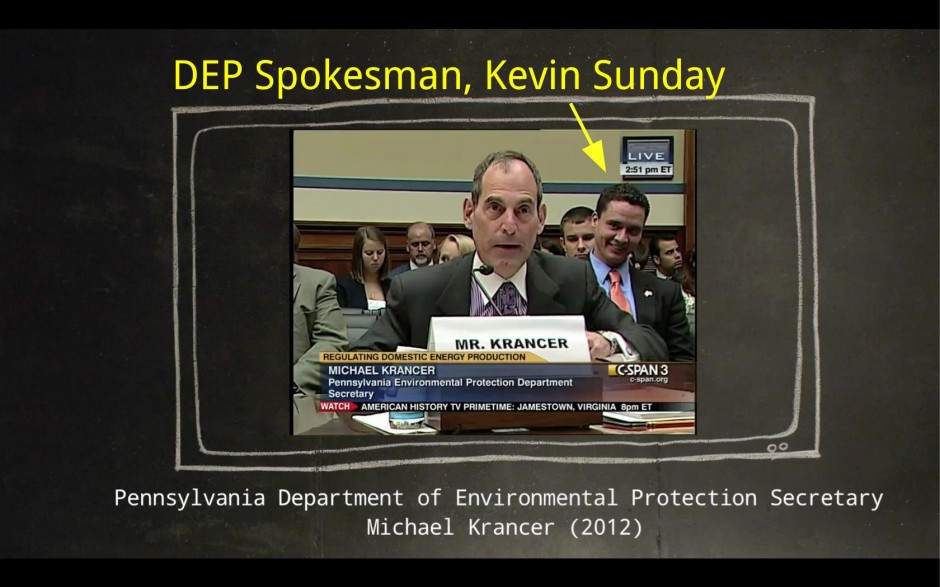 Daniel Spadoni
Since June 2011, Daniel Spadoni, Director of DEP Communications at the North Central Regional Office, has not answered our questions regarding file reviews; from human health issues, to environment, to the handling of waste and violation reports. Mr. Spadoni is red-flagged by Triple Divide for his stonewalling efforts on transparency and refusal to respond to questions pertaining to public DEP files.
Also in 2012, Triple Divide brought filmmaker Josh Fox along on a file review of the Dimock, Pa. water contamination case. Daniel Spadoni stood outside the window of the file review room, shouting and pointing at us as we looked through Dimock files. As it turned out, DEP had not provided us with all the necessary Dimock files for the day, which we discovered when Melissa Troutman found four large boxes of Dimock case files next to a recycling bin containing files that should have been included in the review request.
Scott Perry
Scott Perry, DEP's deputy secretary, is famous for the line, "I'm not familiar with that." In our experiences with Scott, too often genuine concerns are left floating in 'unfamiliar' obscurity. Furthermore, his disregard for open public dialogue and removal of water contamination complaint files from public access during file reviews are the foremost reasons we've red-flagged his position at DEP.
Here's a video by Save Our Streams PA of Scott Perry speaking to Potter County citizens about a proposal for injection wells within the county.

Michael Krancer
(resigned)