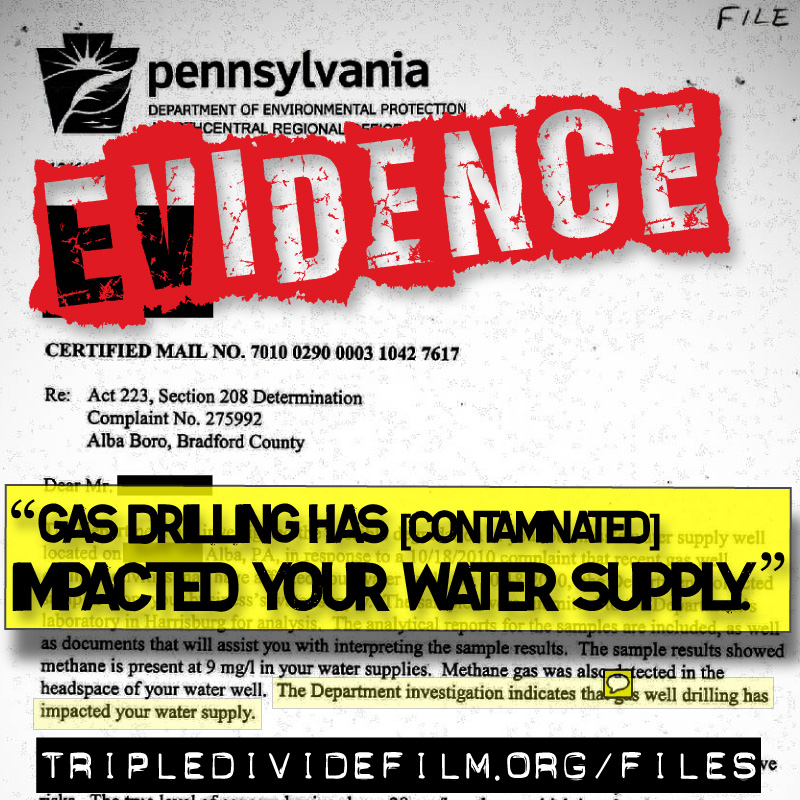 Note: in the coming weeks Triple Divide will be publishing all the LOD documents we have on file.*
When the Pennsylvania Department of Environmental Protection (DEP) conducts an investigation of possible contamination of your water supply from oil and gas drilling, at the end of their investigation you may receive a "letter of determination" or LOD. Not all water supply owners who've been part of DEP investigations have received these letters, however, and many report that gas drilling operators accompanied DEP during its water testing visits, even before gas drilling operations are known to be the cause of the contamination.
The LODs below are from water contamination investigations in Pennsylvania. Though some of these households are located on the same road in the same neighborhood, some water wells are determined to be impacted by natural gas drilling while others aren't, referencing the pre-existing methane found in one-time, pre-drill testing conducted before the drilling.
LOD files for Wilmot Township in Bradford County, Pa.
Chesapeake's response to 6 of the 8 LOD files above from Sugar Run GMI.
LOD files for Alba, Bradford County.
LOD files for Terry Township, Bradford County.
If you have been part of a DEP investigation and would like help examining your own case files, we can help – just email Joshua@publicherald.org.
Methane & Your Water
When DEP determines that methane (natural gas) in a water supply is naturally-occurring, that means that the methane is probably "biogenic" and comes from shallow pockets of underground methane. Natural gas most often traced to deep shale formations and released during drilling or after hydraulic fracturing is likely "thermogenic." Methane in a water supply can be tested to see if it's naturally-occurring (biogenic) or from deeper shale layers (thermogenic) using an isotopic test, which is expensive but can determine the source of methane contamination of a water supply. United States Geological Survey (USGS) describes the difference in greater detail.
*For more LOD documents please visit Damascus Citizens for Sustainability LOD page.